Credit: https://www.veranda-interiors.com/ by Sarah Miller
With an impressive customer rating on Amazon, it's quite apparent that people are increasingly trusting in the quality, performance, and ease of use of the AMZCHEF Slow Juicer. So we decided to test it, and here is what we thought of it.
COMPACT SLOW MASTICATING JUICER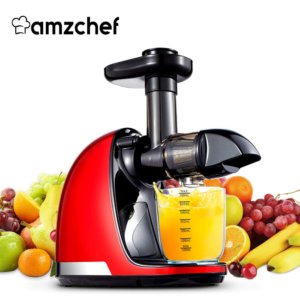 This multipurpose juicer can easily pulverize hard ingredients like apples, pears, ginger and carrots, leafy greens, and wheat grass. With this juicer, creating highly nutritious and tasty juices with minimal oxidation and prolonged shelf life becomes child play.
Armed with a powerful 150-watt motor and a 7-spiral advanced auger that rotates slowly at 80 RPM, the AMZCHEF Juicer is a top contender when it comes to producing great juice yields without destroying the nutrients, minerals, and enzymes.
Minimal oxidation affords the produced juice longer shelf life and enhanced flavor.
Pros
Quiet operation at 60 decibels – Even babies can sleep through it.
Safety lock design for easy assembly and disassembly.
Most components are dishwasher safe.
BPA-free, food-grade Tritan material for reduced oxidation.
A reverse function that protects it from getting stuck and thus easier cleaning.
Cons
A small feed chute, and hence longer prep time.
Produces some foam in the end-product.
The equipment is quite heavy.
The AMZCHEF Juicer boasts a nice, modern design that allows it to fit seamlessly in any kitchen décor. This juicer is comprised of BPA free food grade material that remarkably resists corrosion and heat damage, which ensures its longevity.
It also boasts a humanized design in the form of a small feeder chute, which goes a long way in preventing kids from getting injured during juicing.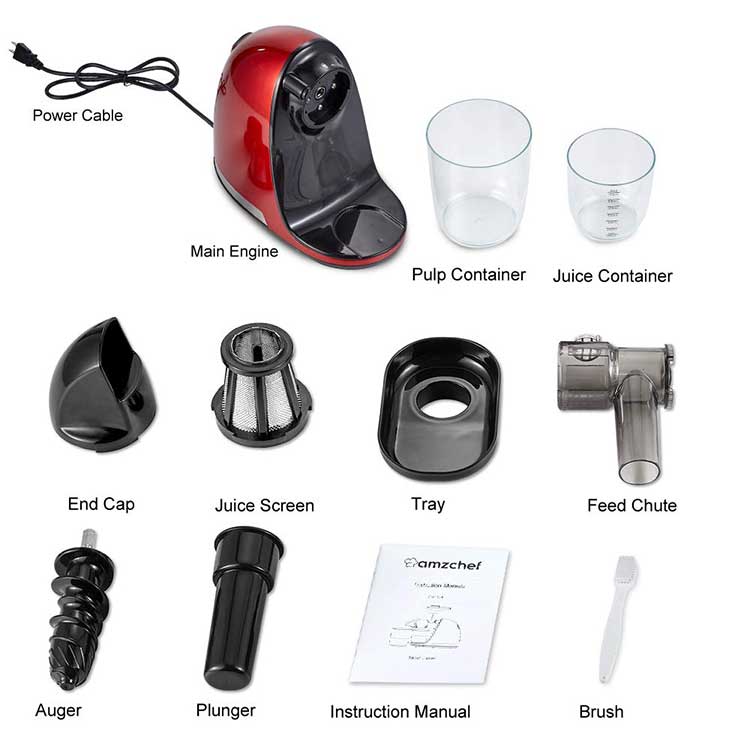 Note: Comes with a long 2-year warranty, this juicer promises to serve the user for long; the manufacturers are clearly confident in the durability of its construction.
The AMZCHEF Juicer boasts a powerful 150-watt motor that can easily grind through hard-to-juice produce like carrots, pears, apples, ginger, or even celery.
As we were using it we noticed that this juicer is capable of automatically separating the juice from the residue, making it suitable for making high-quality baby food. This is largely attributable to the filter, which features multiple holes that allow users to get purer juice.
With the huge pulp collector, users can juice consistently without stopping to empty the waste, which translates to enhanced efficiency.
Key Point: This juicer's feed chute is small which prevents chances of injury.
Power Rating: 150 speed motor.
Our Take: This juicer was one of our favourite as it is very quiet.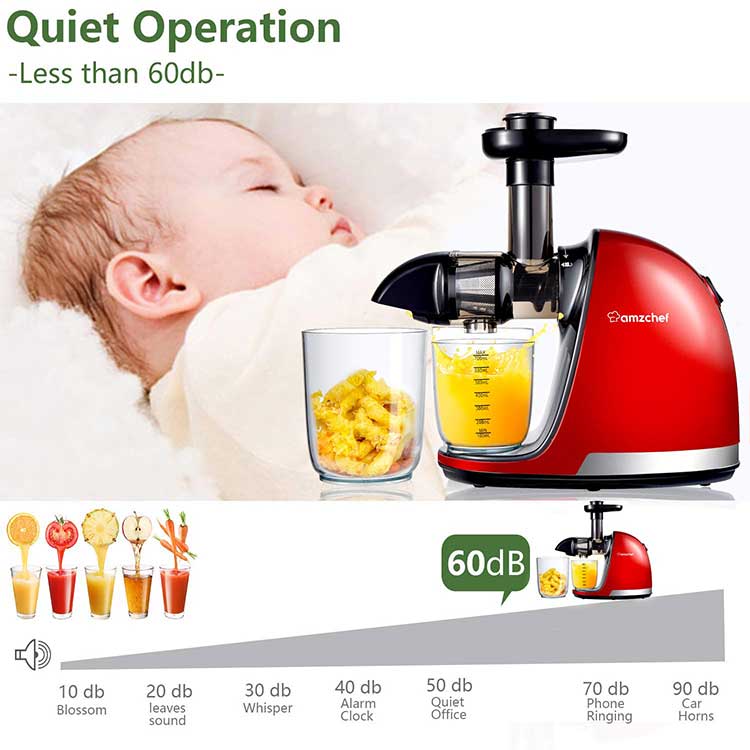 Unlike the conventional juicers that extract juice at high speed of over 1500 RPM, the AMZCHEF juicer twists the ingredients at a slow pace of 80 RPM, which goes a long way in ensuring higher juice yield coupled with a drier pulp.
The slow press process also comes in handy in preventing oxidation while preserving more nutrition (up to 90%) from the ingredients comprising the juice.
Highlights: The components of this juicer are BPA free, which eliminates the chances of contaminating the juice with toxic substances.
The AMZCHEF Juice extractor is not only easy to assemble and operate; maintaining the equipment is equally a breeze.
It features an ingenious reverse function that facilitates easy cleaning by averting the chances of getting stuck. The AMZCHEF Juicer comes with a safety lock mark that further facilitates its ease of assembly and disassembly.
Moreover, all the components, except the motor, are dishwasher safe, which renders cleaning a breeze.
Thanks to its low-speed juice extraction function, the AMZCHEF Juicer easily outperforms its centrifugal counterparts regarding maximum juice yield from anything the user feeds it.
The juice is also pure and retains most of the nutrients and natural taste of the ingredients. While the mouth is much smaller and thus necessitates more chopping of fruits and veggies, it will come in handy for safety purposes, particularly when the kids are helping out in the kitchen.
Homeowners scouting for an affordable cold press juicer with similar amazing features to the high-end models will find this juice extractor as great value for the dollar.
| SPECIFICATIONS | |
| --- | --- |
| Type of Juicer | Masticating |
| Motor | 150 Watt |
| Color | Classic Red |
| Extra Feature 1 | Easy cleaning with a bonus brush |
| Extra Feature 2 | High quality food grade anti-oxidation |
| Extra Feature 3 | safely cleaned in your dishwasher |
| BPA-Free | Yes |
| Dishwasher Safe | Yes |
| Product Dimensions | 15 x 7.7 x 11.8 inches |
| Item Weight | 10.15 pounds |
| Manufacturer | AMZCHEF |
| Model Number | ZM1501R |
| Warranty | 2 Year |